Developed with the future in mind, the FSC Tru series of
home automation composite cables
have been designed for HD media distribution around the home. By combining individual elements such as digital coax, HDBaseT Recommended Cat 5E & Cat 6, fibre, and building control cable in a single jacket, these media composite cables are far less likely to get kinked or damaged which can make installations much easier.
The distinctive bright pink jacket colour of these cables allows for quick and easy identification, and each of the seven variants offered has a coloured stripe to denote which elements it contains.
The digital quad shield coax uses a pure copper core with high braid coverage and a bonded foil aluminium tape providing outstanding screening performance.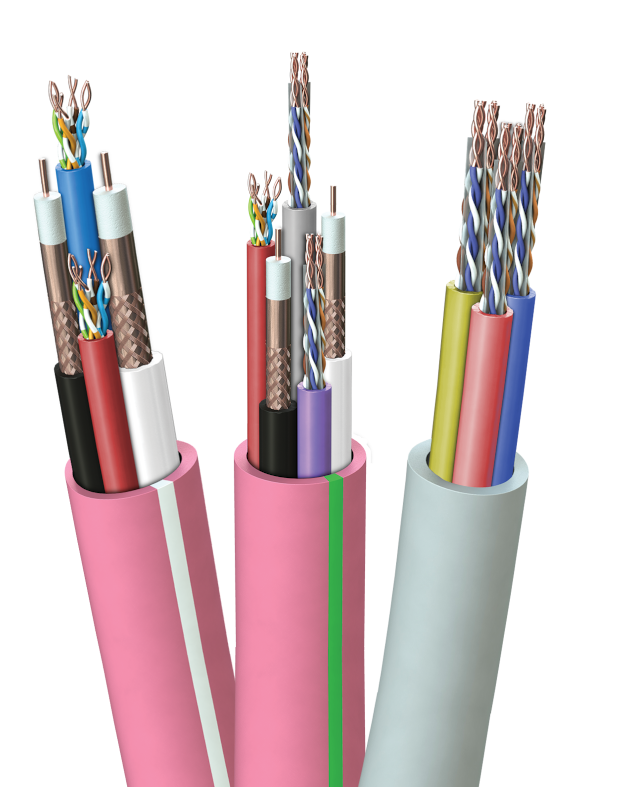 The Cat 5E and Cat 6 data cables are able to carry signals at rates far in excess of the standard which allows for large file transfer between devices quickly and without corruption. These data cables have been tested by the
HDBaseT Alliance
, guaranteeing their network performance and allowing distribution of HD video, audio, 100BaseT Ethernet, power and control across a single cable.
Additionally, the cables containing either a fibre element or building control element such as KNX™, Crestron™, Mode™ or Lutron™ have been developed with future flexibility in mind.
As well as the pre-made cables, we also hold each of the individual components ready to be over-sheathed to a particular specification. This allows custom combinations to be manufactured with low minimum order quantities and lead times of only a few weeks.
Cables can also be printed with the area and device numbers on the jacket to make marking or tagging during installation quick and simple.