FS Cables has announced its entire
TruHD range of HDBaseT Recommended cables
has been independently tested for CPR compliance.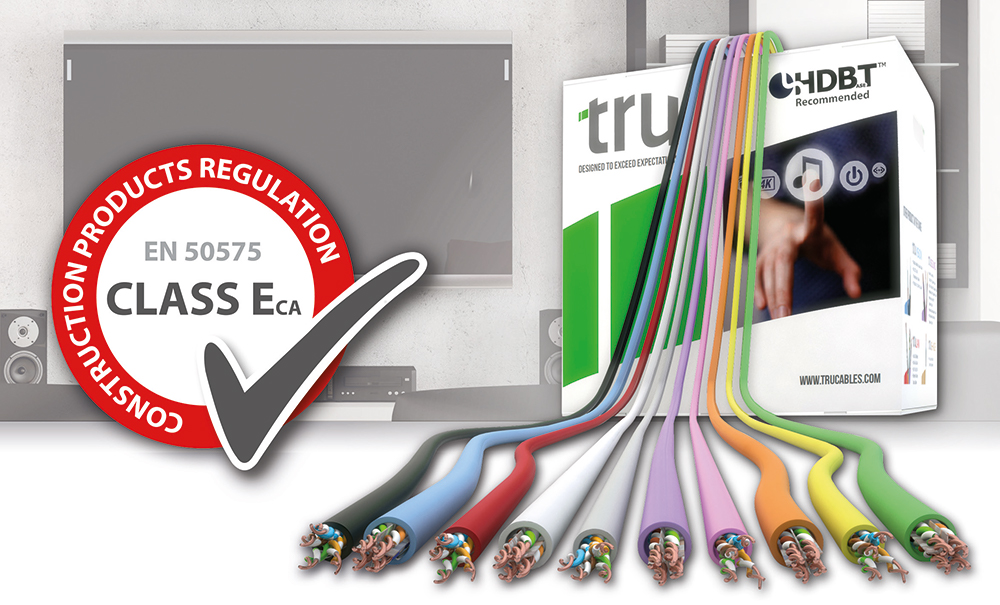 The Construction Products Regulation became a legal requirement in July 2017. It affects cables designed for permanent use within domestic, residential and commercial buildings, making CPR particularly relevant to audio visual cabling. The Tru range of HDBaseT Recommended Cat 5E, Cat 6 and Cat 6A cables have been tested to Class Eca – offering the ideal solution where CPR has been specified.
Available in either PVC or LSHF and 305 metre pull boxes for your convenience, these cables are offered in a wide range of colours for easy identification.
Cables within the TruHD range have undergone testing by the HDBaseT Alliance, guaranteeing their network performance and making them a smart choice for the interconnectivity of countless digital devices.
HDBaseT is the leading standard for distribution of uncompressed HD media over a single cable, with runs of up to 100m. The HDBaseT standard allows for distribution of Ultra HD video, audio, 100BaseT Ethernet, power (PoE) and control all within a single cable.
Full HD, 3D and both 2K & 4K uncompressed video are supported, delivering optimum levels of video quality with zero latency. Also supported are many high quality audio formats including Dolby Digital, DTS, Dolby TrueHD and DTS HD-Master audio.
All cables within the TruHD range are available from stock for next working-day delivery to most of mainland UK. Screened or unscreened, duct grade and armoured options are also available.
For the latest news on CPR and how it may affect you,
please click here.