Irrespective of your application, the quality of your cables has a critical impact on the compliance, safety, and reliability of your project installation. But how can you be sure that the cables you purchase meet the right standards?
One way to gauge your supplier's quality potential is to ask them about the scope of their laboratory testing resource. However, for laboratory services to fully translate into quality cable deliveries, they must exist in an environment where quality is built in – with care for employees, suppliers, and customers alike.
This article looks at the factors that comprise effective laboratory testing, including how it can be facilitated by the right quality environment.
FS Cables' Mission Statement shows that we not only are committed to, but take pride in the way we treat each other, our customers, and our suppliers.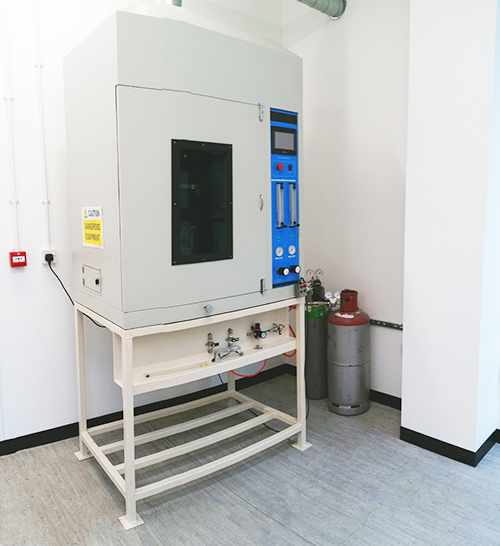 That's an easy statement to make, but we can back it up with strong evidence. Our ISO 14001 and ISO 45001 certification demonstrates how we care for our staff and customers' health, safety, wellbeing, and development, while measurably reducing our environmental footprint. And, since 1996, we have held ISO 9001 quality certification, which underwrites our ability to reduce errors and continuously improve the quality of our products and services.
Additionally, our ISO 9001 accreditation is complemented by many more industry-specific certificates, such as RISQS, IMPA, REACH, Feefo Gold, and others.
But, given this quality strategy, how do we assure the quality of the cable products we ship to our customers every day?
The answer relates to our recognition of the realities within the cable industry, and the steps we take to protect our customers from these. Non-compliant and sub-standard cables exist across the industry: some problems arise from genuine manufacturing, tolerance, or specification errors, but there also many ways in which costs can be reduced by cutting corners - recycled materials, undersized conductors, less effective conductors and screens, thinner, substandard and poor quality insulation and jackets. In fact, there are almost limitless ways to cheapen a cabling product.
Any of these shortcomings would likely render a cable non-compliant, which would mean that anyone consuming it would fail to meet their obligations for compliance, safety and reliability. Additionally, a field failure is often expensive and time-consuming to rectify, especially if it occurs within an inaccessibly-located cable. The resulting loss of service and damage to reputation are other factors that must be costed in to any field failure.
FS Cables' first step in preventing such scenarios is to take great care in choosing our suppliers. Our supplier network has been built up through many years of trust and trading experience. This is complemented by our staff, who understand the importance of accurate communication between departments, as well as with customers and suppliers.
However, we never simply rely on these factors. We have invested in our own independent, on-site laboratory testing facility which is dedicated to ensuring that cables fully comply with their stated specification and every FS Cables branded product goes through rigorous testing before it is available for supply into the market.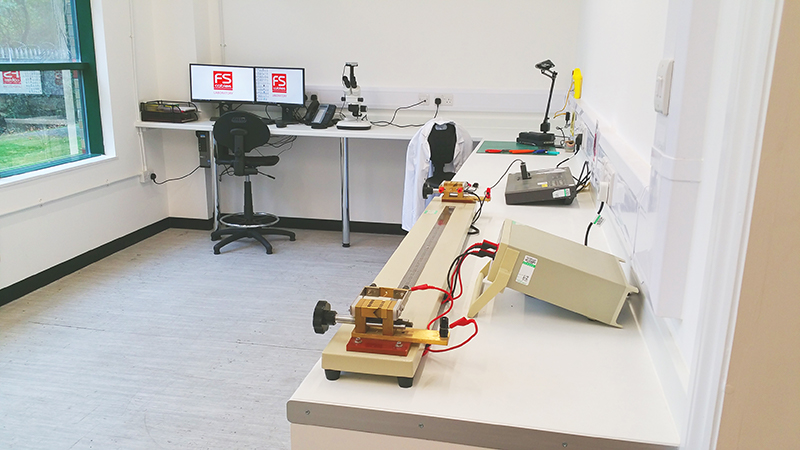 FS Cables' QC testing strategy comprises a set of procedures, with links to relevant standards as appropriate. The strategy is managed by Callum Stevenson, our Quality Control Technician.
FS Cables' laboratory testing facility plays a valuable role in assuring customers of our cable quality. "My extensive experience in quality control has taught me the importance of detailed reporting and thorough checks" comments Callum, "I also maintain good communications with the warehouse operation, and an insight into goods in status and stock control procedures.
"Similarly, I liaise regularly with the purchasing department to understand our product sourcing choices, and our expectations of our suppliers."
This approach reflects how the FS Cables' laboratory and other departments work closely together to ensure that customers always receive cables manufactured to a standard that assures products achieve not only compliance, but also a consistent quality to provide confidence to customers safe and reliable installation.