CPR Explained - Video Guide
Most cables designed for permanent installation within domestic, residential and commercial buildings are subject to the Construction Products Regulation (CPR), covered by BS EN 50575. This is a legal requirement so it's important you understand how to stay compliant.
BS EN 50575 is a regulation which brings together common classification, criteria and monitoring requirements to form seven Euroclasses. These classes have fire performance assessment processes based on BS EN 60332-1-2, BS EN 50399 and BS EN ISO 1716. There are additional tests for Smoke Production, Flaming Droplets and Acidity.
The Euroclasses
The regulation classifies products into one of seven classes (see Table 1), but in most instances, only five classes will apply to cables. Classes Fca and Eca undertake a basic vertical flame test to BS EN 60332-1-2. If there is a high level of flammability, it would be classified to Class Fca. However, for the cable to meet the requirements of Class Eca, the test has to be conducted with limited flammability by an authorised test house, known as a Notified Body (NB). Tests by NB's carry a significant cost. We have invested in equipment for testing to BS EN 60332-1-2. This enables us to understand how cables will perform and where appropriate, classify to Class Fca.
Classes Dca, Cca and B2ca also apply to cables. Like Class Eca, the tests are conducted by a Notified Body. At Classes Cca and above, the factories manufacturing the cable will be regularly audited and cables retested by an approved third party. It is unlikely that many cables will meet the requirements of Class B1ca and Aca, simply due to the materials they are made of.
It is up to the designer, specifier or installer to satisfy themselves that the products chosen are appropriate for the application and meet any contractual requirements. It is important to note that at the moment, CPR-classified products can be used, whatever their Euroclass, providing they are contractually acceptable. When specifying cable, take care to assess the risk of fire within a building and the potential ease of evacuation. Airports, hospitals, prisons, tunnels and high-rise buildings all offer their own unique challenges and should be assessed individually.
In some parts of Europe, the national regulatory body is defining which class should be used in a specific application; the UK has not taken this approach. The publication of BS 6701:2016+A1:2017 gives specifiers and consultants a set of guidelines for telecommunications cables and could be used to form the basis of a commercial contract, although this is supplementary to the IET Wiring Regulations.
The 18th Edition of the IET Wiring Regulations does not specify Euroclasses for specific applications, however some supplementary standards such as BS 6701:2016+A1:2017 may apply. Specifiers and installers need to ensure the cables they select are appropriate for the fire risks in the building or application.
It's worth mentioning that The CPR does not outlaw the use of cables that emit excessive amounts of toxic fumes and smoke in the event of a fire. It is down to the specifier to select suitable product, such as Low Smoke Halogen Free (LSHF) versions.
Table 1: Summary of Euroclass test results for CPR-rated cables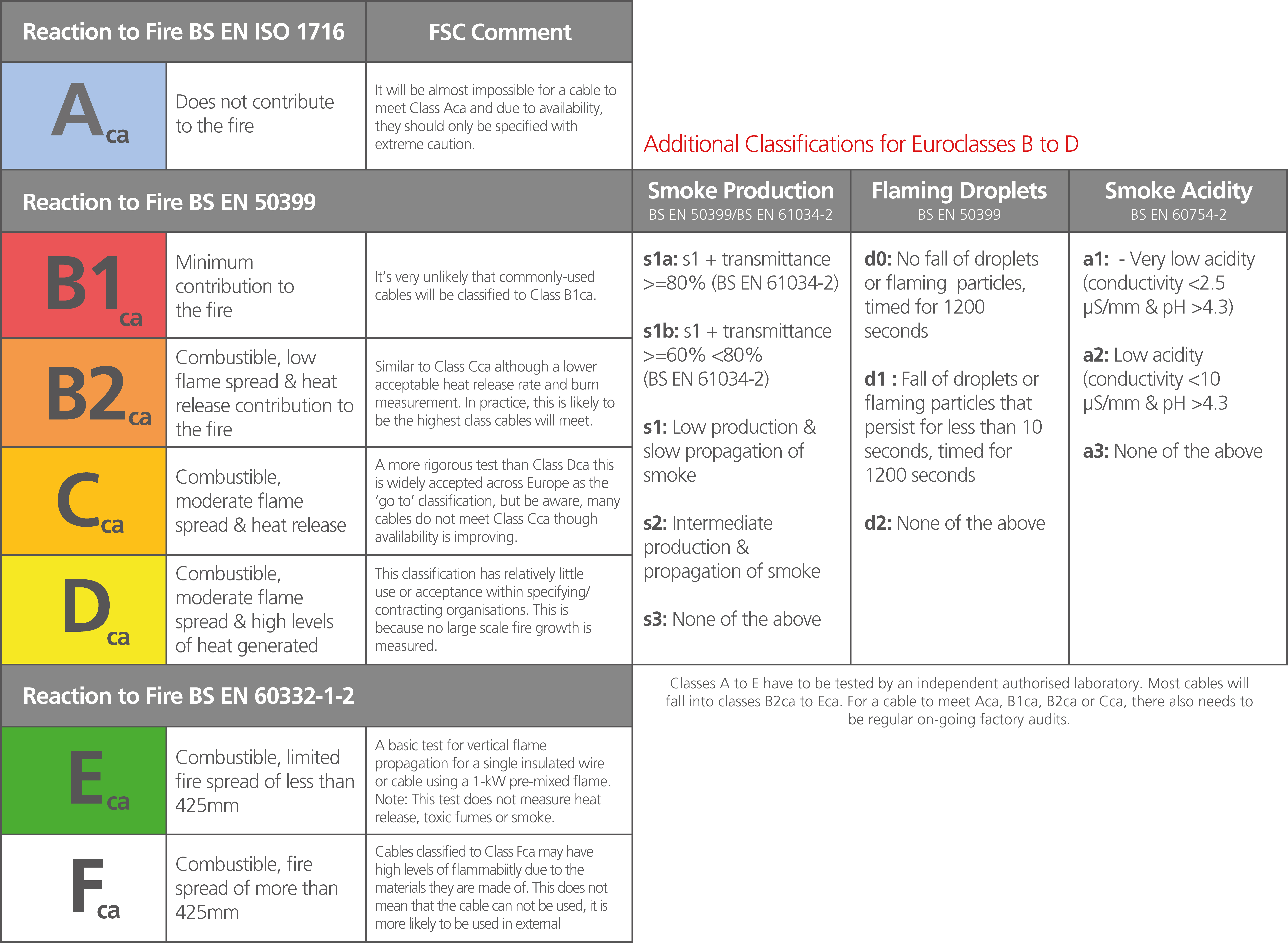 Stay Compliant
So what can you do to stay compliant? Cables manufactured after July 2017 intended for permanent installation within a domestic, residential or commercial building, or any other civil structure, should have a Declaration of Performance (DoP) available. This document shows critical information such as manufacturer's name, product type and class met.
By law, manufacturers or anyone importing cables outside of Great Britain need to keep records of CPR compliant cables sold and be able to provide DoP documentation for up to 10 years after it was first sold. If purchasing FSC or Tru brand CPR compliant cable, you can easily download your CPR documentation straight to your mobile, tablet or desktop through our CPR downloads tool.
Since the United Kingdom (UK) withdrew from the European Union (EU) on 31/01/2020, there are now three different market compliant covers to be considered.

GB: Goods need to be UKCA marked. Classes Eca and above need to have been tested/classified by an approved body (GB only).
EU: Goods need to be CE marked. Classes Eca and above need to have been tested/classified by a notified body (EU Only).
NI: Goods need to be CE or UKNI marked. (UKNI are goods tested/classified in GB by an approved body. These goods cannot be sold into the EU).
The cable itself does not have to be printed or embossed to show CPR compliance, however the regulation is very clear that the packaging (usually a drum, spool or box) must carry specific information, almost always on a label. This will include the CE mark, DoP reference and unique product type. All FSC-marked cables carry a batch number to give full traceability regarding when and where the cable was made and also the materials used to manufacture that specific batch.
As part of the commitment to meet current regulations, FS Cables stock over 1,100 CPR-compliant cables including Alternative to Belden cables, structured wiring, fibre, coax, signal & control and power cables. You can view the full range here or browse our CPR Compliant cable ranges below.
CPR-Compliant Cables to Class Cca:
CPR-Compliant Cables to Class B2ca: