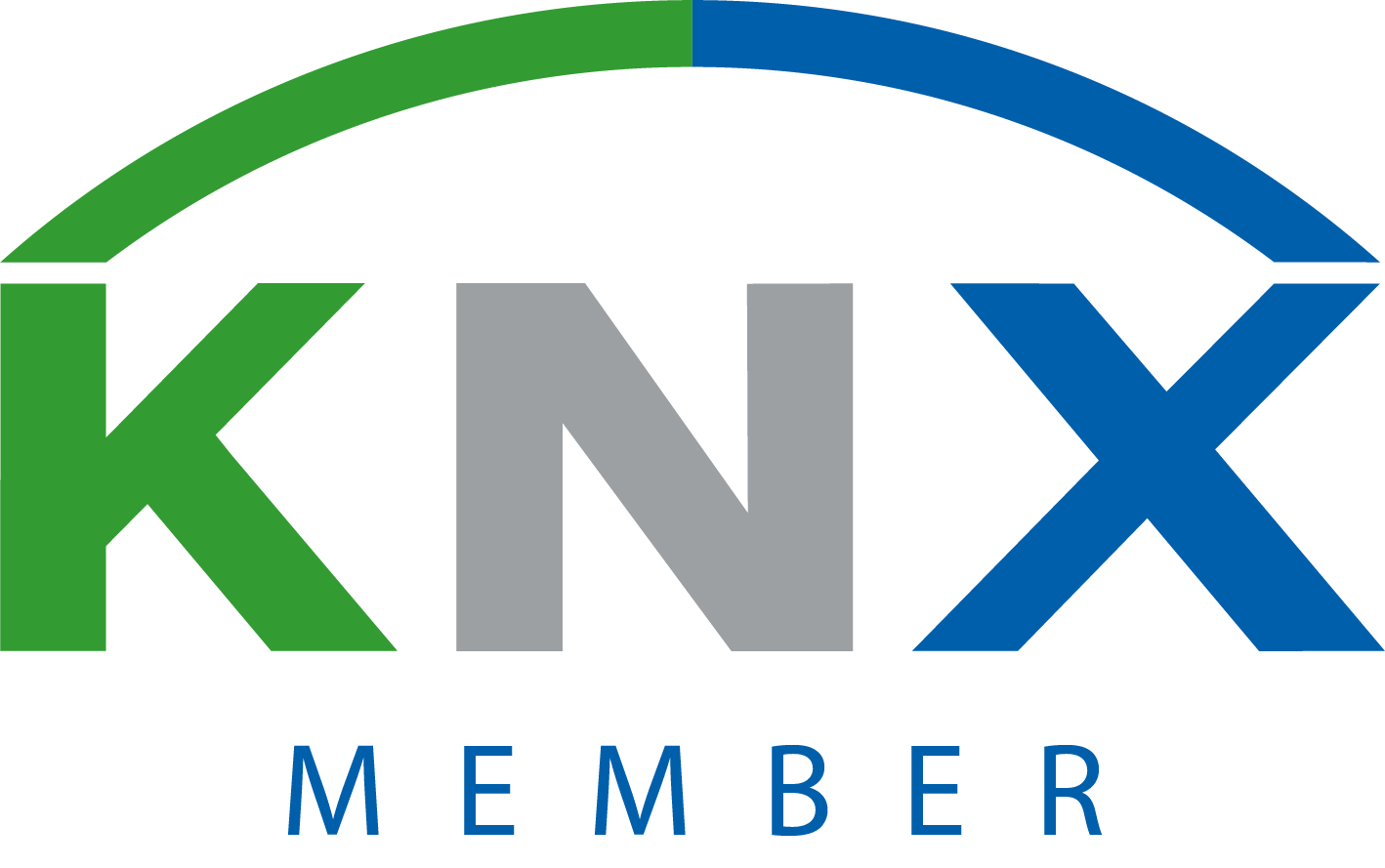 What is KNX?
KNX is an international building control standard that enables the integration and programming of a range of products from many manufacturers using a single software tool.
Buildings that are energy efficiently designed are becoming increasingly popular. Most modern buildings incorporate some form of Intelligent Building Technology (IBT) ranging from automatic lighting and climate control to door entry and security systems.
The KNX standard is an internationally recognised system for home automation and building control combining ISO/IEC (14543), CENELEC (EN50090) and CEN (13321). It also combines and replaces previous Bus systems – EIB, EHSA and BatiBus.
The harmonisation of these standards and systems offers a flexible, versatile and 'problem-free' solution combining certified devices across a range of approved manufacturers – ensuring conformity, interoperability and quality.
All KNX certified equipment has been tested and certified to this high standard and only equipment meeting this can carry the logo. This ensures the quality, reliability and guaranteed compatibility of all KNX devices and equipment.
KNX is 'Green'
The operation of heating, lighting and blinds among others can be aligned with external climate conditions or adjusted by an interface to pre-set levels. With the increasing demand for 'green' buildings, KNX systems can contribute to significant energy savings over time.
For example, lighting can be altered depending on the amount of natural light detected or people present in the building. Heating, cooling and ventilation can be measured by temperature sensors and adjustments made where necessary.
Despite the extended functionality of this intelligent system, the wiring system involved is remarkably simple. A single KNX bus cable is used to send control data to multiple devices on the system, from automatic blinds or curtains, heating or air conditioning systems or entertainment systems.
The system is wired in a daisy chain format, connecting each device to the next without the need for a central controller. This enables each device to function independently and intelligently.
FS Cables twisted pair cable (TP1)
FS Cables as part of its growing product range offers a
KNX certified cable
. This features two twisted solid conductor pairs with a foil screen in a green jacket. It has been tested and certified as being suitable for use in KNX systems and bears the KNX logo.
As you would expect from an FS cable it also benefits from being low smoke halogen free throughout making it ideal for installations where the safety of people or sensitive property could be compromised in the event of fire.
The
LU approved KNX cable
has passed the latest London Underground requirements and has been independently tested by the BRE-Global Ltd (Building Research Establishment). It can be identified by the distinctive white stripe over the green sheath.
Many of our KNX cables have been tested for compliance to the Construction Products Regulation (CPR). The
2 pair green KNX cable
has been classified to Class Cca s1a, d1, a1.
The certified range for internal wiring includes the standard green twisted pair cable and a version with a white outer jacket for discrete surface wiring and reduced outer diameter often used as a jumper or patch cable.
Also certified is a
duct grade version
with an additional tough, weatherproof polyethylene jacket and an
armoured version
featuring a steel wire armour and polyethylene jacket.
These are ideal for external applications where installers need to run systems outside where environmental or mechanical protection is required.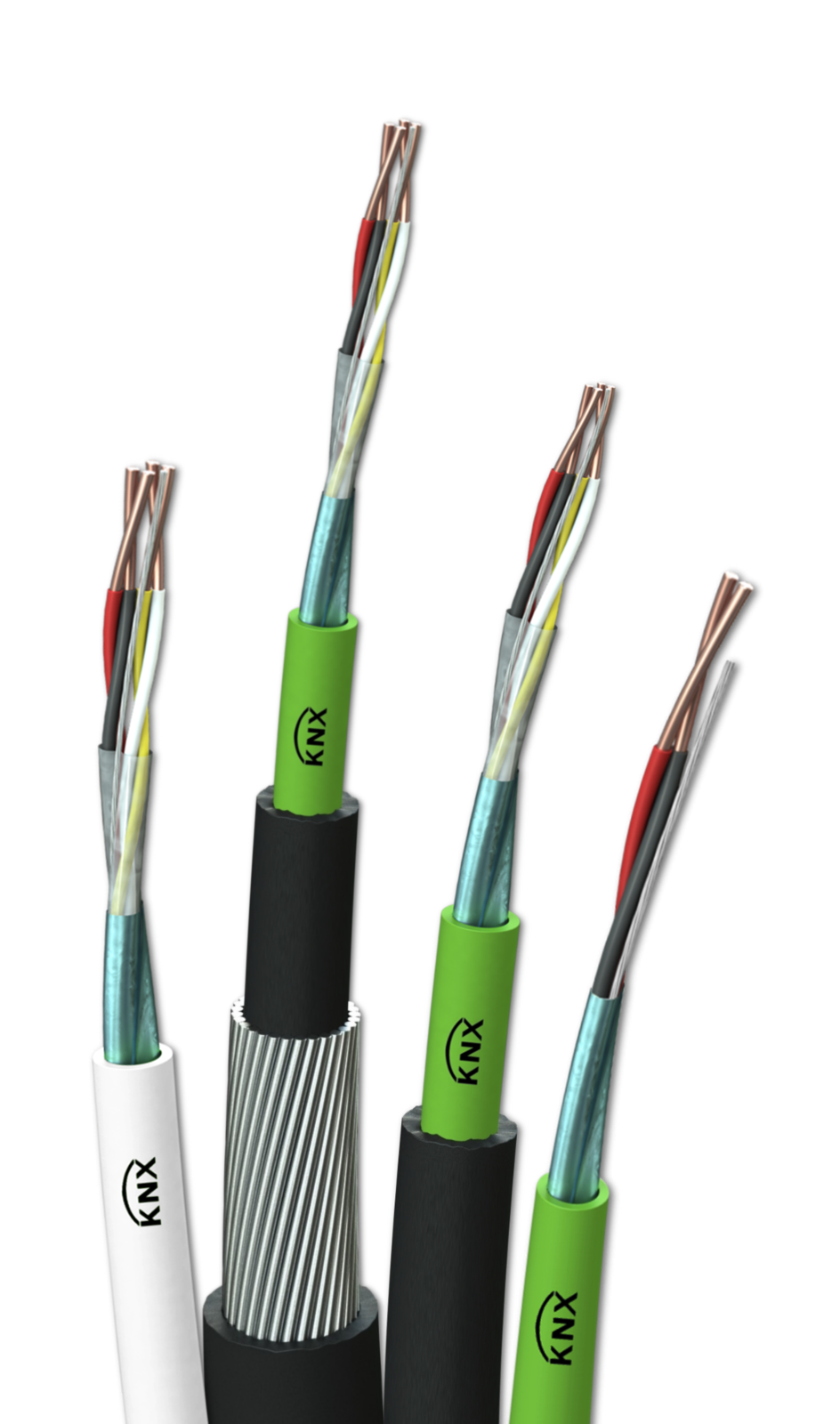 When you are looking to buy KNX cable, look for the KNX logo. All KNX certified equipment has been tested and certified to meet this high standard and only equipment meeting this can carry the logo.
KNX tested & certified – quality assurance ("exceptional" tests conducted in order to obtain KNX approval)
Guarantees to work with other KNX products
Solid copper cores – better conductors over stranded
LSHF Green jacket – easy identification
Shielded – can run next to power cables
Colour coded pairs – easier installation
Spare "get out of jail" pair
FS Cables are members of both KNX UK and KNX international as a manufacturer member to help promote the KNX standard and gain certification of its product range.

Further information about the KNX standard can be found at
www.knxuk.org