When you are looking to buy KNX cable, look for the KNX logo. All KNX certified equipment has been tested and certified to meet this high standard and only equipment meeting this can carry the logo.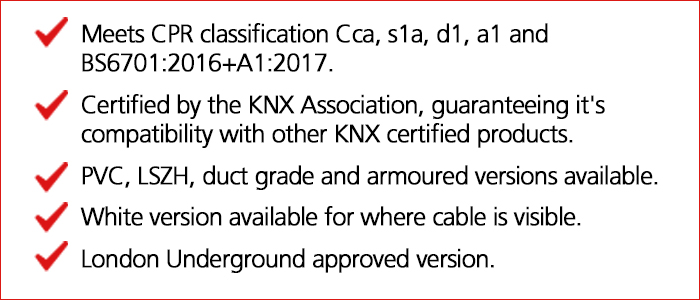 The KNX cable from FS Cables (also known as TP1 cable) features two twisted pairs of solid conductor with a foil screen and tinned copper drain wire in a green LSHF jacket. It has been tested and certified as being suitable for use in KNX systems and bears the KNX logo.
The LU approved KNX cable has passed the latest London Underground requirements and has been independently tested by the BRE-Global Ltd (Building Research Establishment). It can be identified by the distinctive white stripe over the green sheath.
Many of our KNX cables have been tested for compliance to the Construction Products Regulation (CPR). The 2 pair green KNX cable has been classified to Class Cca s1a, d1, a1.
Also offered is a duct grade, armoured and white version and a single pair cable, with a reduced outer diameter often used as a jumper or patch cable.
KNX tested & certified – quality assurance ("exceptional" tests conducted in order to obtain KNX approval)
Guarantees to work with other KNX products
Solid copper cores – better conductors over stranded
LSHF Green jacket – easy identification
Shielded – can run next to power cables
Colour coded pairs – easier installation
Spare "get out of jail" pair