CCTV Cabling
Putting you in the picture
Some years ago the security world was inundated with 'wireless' radio frequency security products ranging from detectors to cameras. So why twenty years on are cables still so important?
The short answer is that in the majority of cases cable is simply better and more reliable. Electric cable also offers versatility coming in all manner of shapes and sizes to meet pretty much any application.
Coaxial Cables
Traditionally
coaxial cables
were used by security installers. They are now commonly used in CCTV applications in many different forms from
RG59
and
URM70
to
satellite cables
such as
CT100 / 125
. Coax has the advantage of being understood by most installers and is both relatively cheap and easy to terminate.
Coax cables are robust and readily available in many different versions. The disadvantage of coax is that signal quality can diminish as the run gets longer. This means, more expensive coaxes are needed.
Also, the signal can be prone to interference in 'high noise' environments such as near motors, power lines or fluorescent lighting.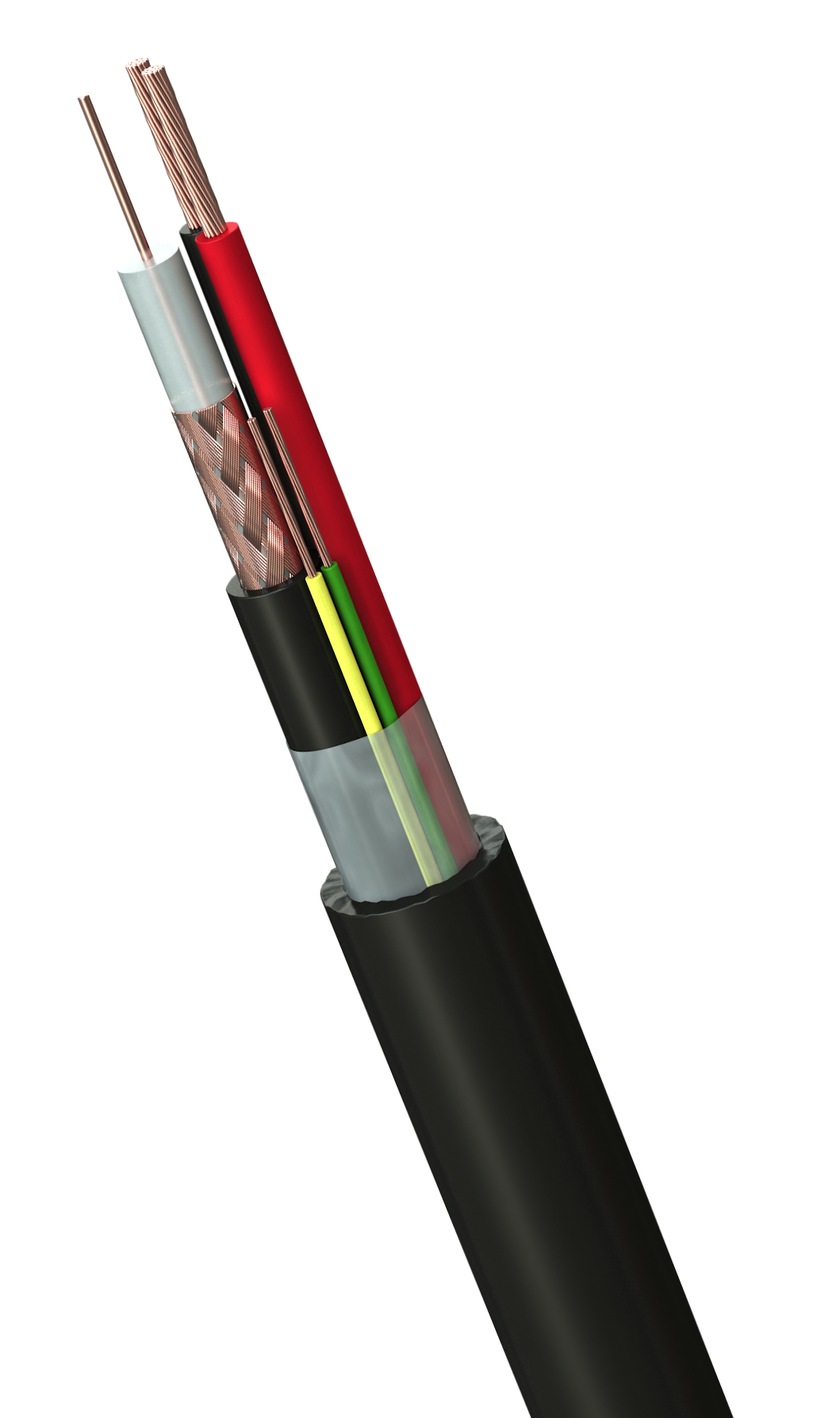 Composite Coaxial Cables
With the increase in infrared illumination for night-viewing and the need for Pan / Tilt / Zoom (PTZ) functions on cameras,
composite coax cables
with a mix of power, signal and coax or twisted pair data cable combined in one jacket are increasingly popular.
Applications include remote cameras situated away from the main installation such as in car parks or on roadside cameras where the cable is run over a series of pulleys enabling the camera to be lowered for servicing or cleaning.
Other composite cables are available 'shotgun style' where the element, coax, power and signal are run parallel to each other but joined by a web. Composite cables for specific security systems are also popular, in particular door entry phones, access control units and retail identification systems. A coax combined with multiple signal and power cores make for a quick, simple installation on video entry systems.
Structured Wiring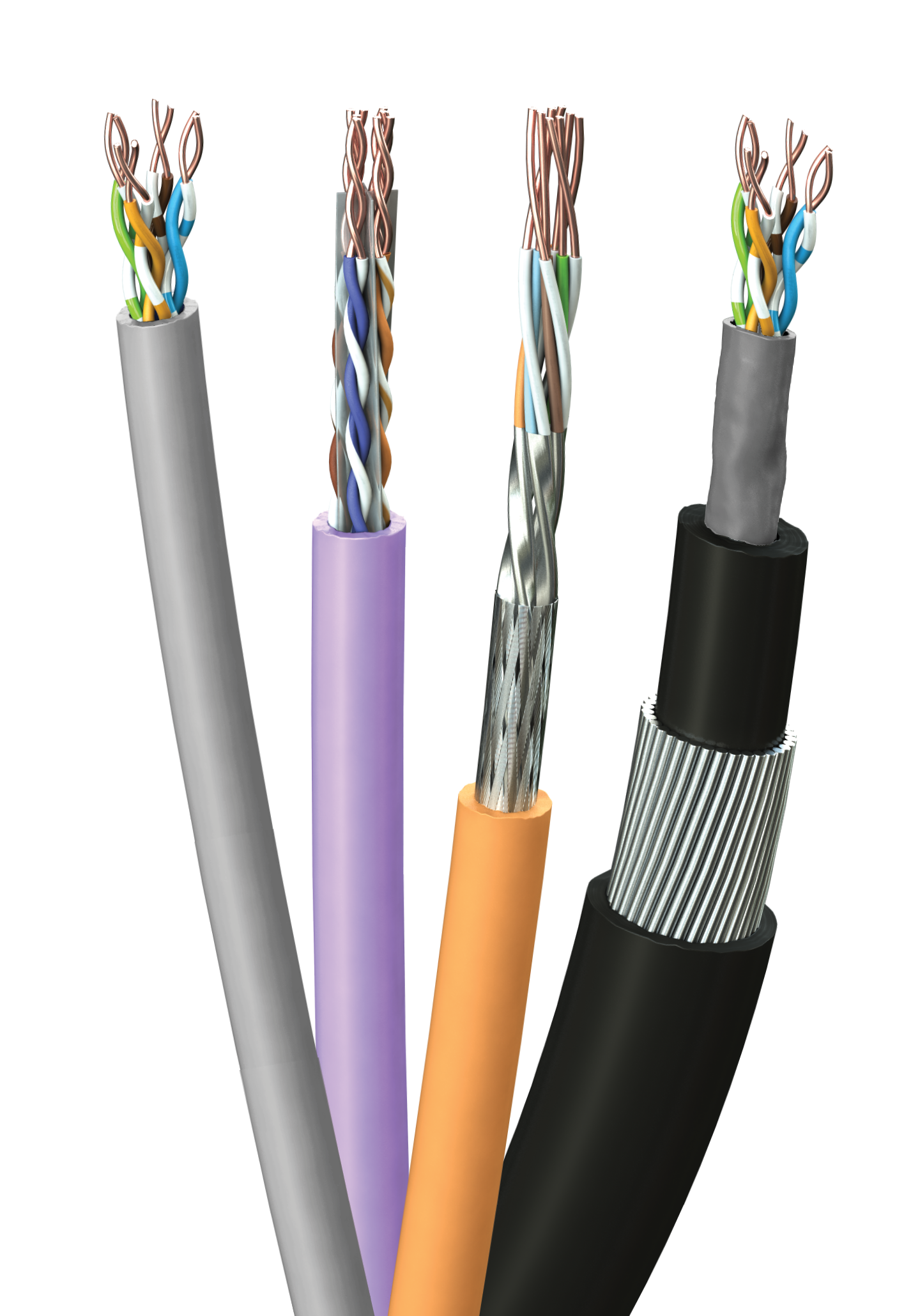 More cameras are now able to transmit over twisted pair cabling instead of the conventional coax. Twisted pairs, normally unscreened (UTP) of the
Cat 5E
or
Cat 6
variety are widely used to flood wire buildings and it often makes sense when installing a network to incorporate the CCTV element of the security system within it.
There's also the advantages of PoE (Power over Ethernet) to consider. If the camera is PoE enabled, only the network connection needs to be made as it receives the electrical power from the cable as well. This can reduce installation time and the expense of additional cabling.
The main things to consider when using Cat 5E or Cat 6 are the relatively delicate nature of the cable in its standard form and the possible increased cost of cameras and multiplexers required on the network. Standard category style cables are quite delicate and to avoid signal loss must not be trapped, crushed, kinked or bent too tightly around corners.
Sheathing Materials
Nowadays it's not uncommon to find security installations which require cables to be clipped externally to masts or buildings or pulled through ducts. As external applications and the physical demands that these cables are being asked to cope with are increasing all the time.
The question for security installers is to look at the application and decide on a suitable grade of cable for the job.
Popular cable grades include:
PVC – For internal installations.
LSHF – Normally for internal installations in sensitive areas, where there is a threat to people or property in the event of fire.
Duct grade – Popular in external installations. PE sheathed to protect against the ingress of water. (If you need a good quality duct grade cable make sure it's PE, there's a lot of companies selling PVC as duct grade, and generally speaking it is not up to the task.)
SWA – Armoured to protect against physical damage.
PVC
PVC
is the cheapest option for a given cable design, it offers good flexibility, low cost and reasonable durability. The disadvantages are that some grades of PVC can weather badly and give off poisonous gases and fumes when burnt.
LSHF
Low Smoke Halogen Free (LSHF)
compounds are similar in appearance to PVC cables but behave very differently when exposed to fire. They do not give off significant amounts of toxic fumes or smoke and often their fire retardance is much better.
Whilst more expensive than PVC/LSF cables LSHF provides improved building safety and are often specified for use in public buildings such as hospitals and airports etc.
Duct Grade
Our
duct grade cables
combine the same internal components, (conductors, cores and insulation, together with screens) but with the added protection of a heavy, black, UV resistant, waterproof, polyethylene (PE) jacket. Good quality duct grade cables retain the standard PVC inner jacket which can be stripped off allowing termination using conventional connectors for fast installation.
The PE jacket not only protects the cable from moisture but also adds to the physical strength of the cable, important when the cable is pulled through ducts often over hundreds of metres.
Duct grade cables are ideal for exposed external installations where the jacket gives both mechanical and environmental protection as PE offers very good UV resistance. Clipping to masts, running up the sides of buildings, across roofs or on catenary wires are common applications, as are installations in schools, industrial yards and CCTV networks.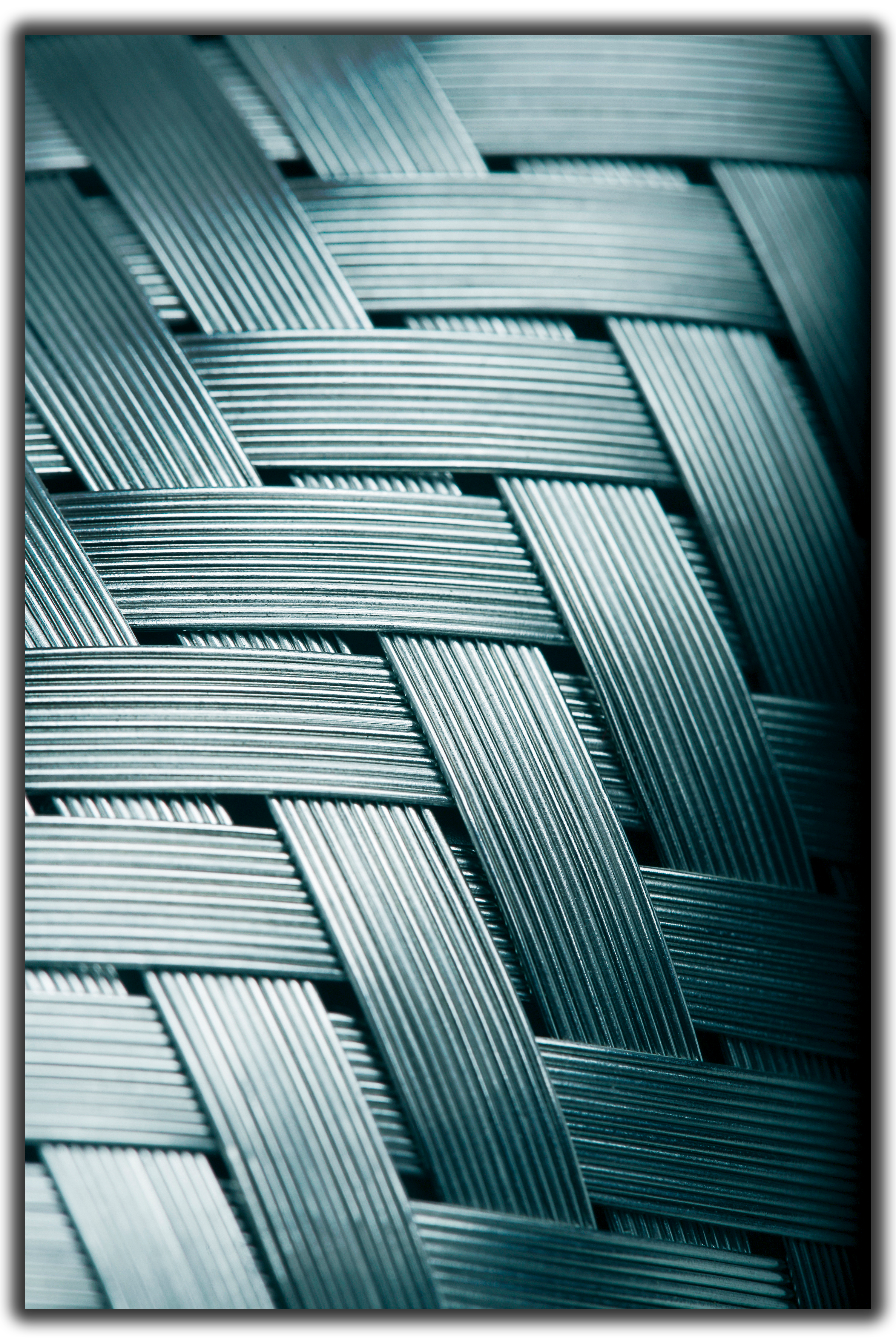 Where the larger diameter, bend radius and relative stiffness are an issue we also stock weatherproof versions.
Armoured Cables (SWA)
SWA
are similar to duct grade versions but give significantly greater protection. The armouring process takes a standard or duct grade cable and adds galvanised steel wires and an oversheath of PVC, PE or LSHF to give the cable total protection.
Whereas armoured cables were traditionally used for direct burial they are now increasingly popular solutions for protecting cables against vandalism with a number of recent installations in premier league football stadiums.
A Wealth of Solutions
Clearly the choice of cables on offer today is increasingly diverse and is suitable for almost every security installation and application. Despite the growth of wireless technology in security the future for cable looks secure!
A full range of security cables including application and technical information is available in issue 12 of the cabling guide –
The Little Red Book
from FS Cables.