You're on a rooftop, looking across an empty sky 900 feet above the ground. Your foot hovers over the ledge and touches a cable just a couple of centimetres wide. As you force your body forward, white knuckled hands gripped tight around a balancing pole, you find yourself suspended over a gut-wrenching void...
Okay, maybe we're being a little melodramatic, but nevertheless, the Construction Products Regulation (CPR) for cables can feel like walking a tightrope, specifiers and installers have our sympathies.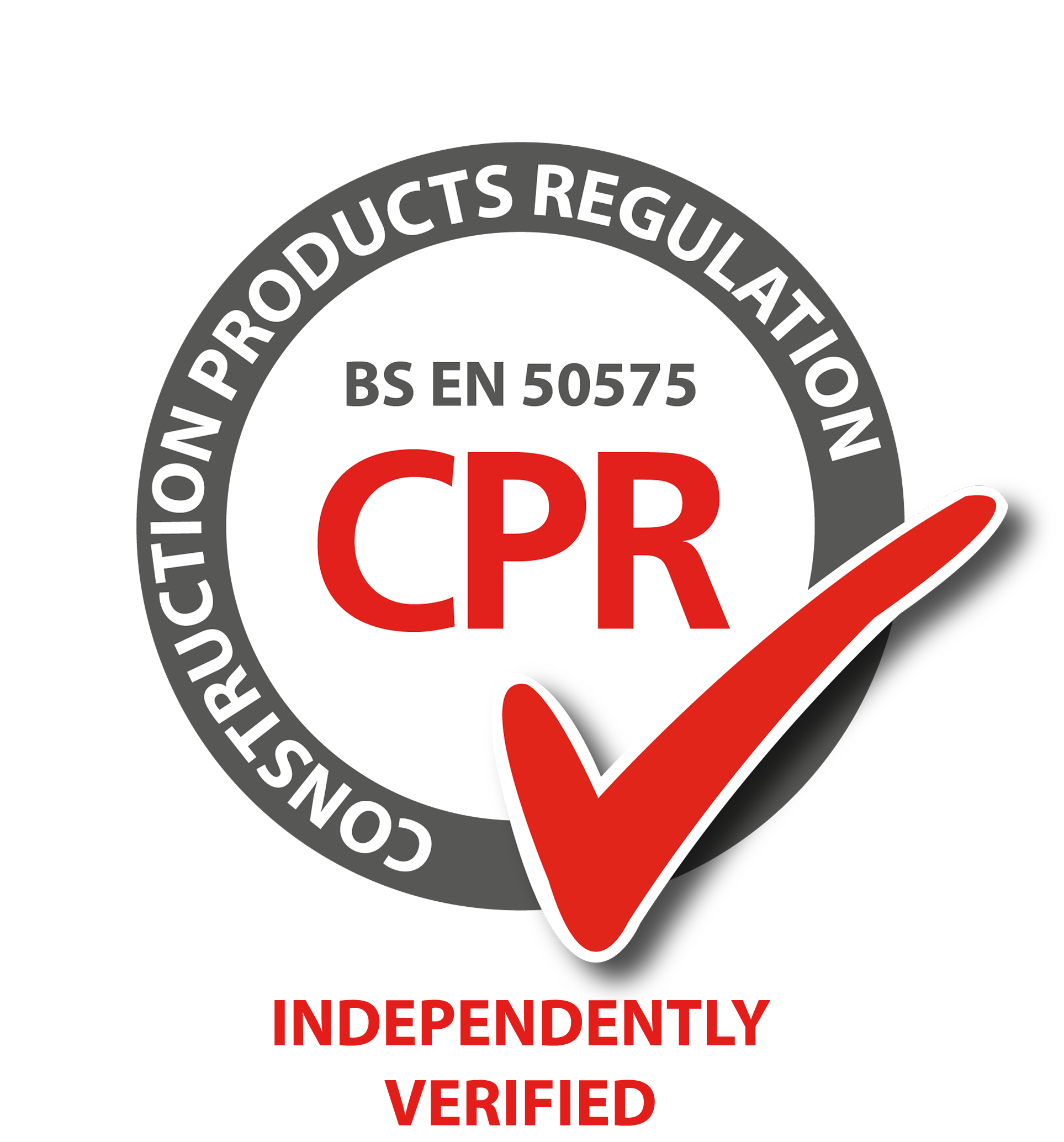 There's little doubt that CPR's contribution to fire safety is ultimately as a positive one. But often, the way in which CPR has been implemented and interpreted has simply served to spread confusion and a lack of understanding across the UK construction sector.
In July 2017, the original Construction Product Directive (CPR) was expanded to include performance specifications relating to how a cable reacts to fire. The revised legislation aimed to harmonise the specifications across all EU member states via the Euroclasses universal classification.
Just to recap. The key aims of the Construction Products Regulation (CPR) in relation to cable are twofold.
First: to standardise classification of combustible materials used in the building industry;
Second: to ensure designers and installers are more aware of the contribution cable products make to the spread of fire.
The 18th edition of BS 7671 recognises that where applicable, cables need to meet CPR requirements and carry a Euroclass for fire performance. BS 7671 does not specify or recommend which Euroclass to use in an environment or application. Nor does it outlaw using cables that emit toxic fumes and smoke in the event of fire.
Specifiers and installers must therefore ensure the cables they select are appropriate for the fire risks in the building or applications and any contractual terms. The CPR covers the way in which product is placed on the market. Crucially, it does not say what class of product should be used in any given circumstance.
Table 1: Outline of the Euroclass tables for CPR rated products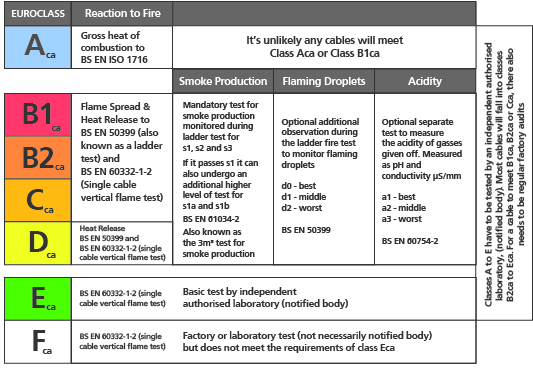 In some European states, the local regulatory body has defined which class to specify for a specific application. We in the UK are not so fortunate. Here, the CPR class specified falls to the specifier. But that doesn't mean simply specifying the highest class possible is the best option.
The fact of the matter is that specifying to what many might consider to be a 'safe' level might prove cost prohibitive for the contractor, who may also discover cables to higher classifications scarce to come by.
And remember, test procedures to gain even Cca compliance are also costly for manufacturers and can involve lengthy R&D to meet the standard – potentially resulting in compromising safety for cost.
Another complicating factor. Cables redesigned to pass higher CPR classes may shift in electrical or data performance and physical properties - factors that may bear down on how effectively they perform or their method of installation.
Lower CPR classes focus on spread of fire, not toxic fume and smoke emissions. Specifiers considering the emissions of cables when burnt need to choose Low Smoke Halogen Free (LSHF) but beware.
A cable may meet Class Eca in CPR terms but this gives no indication of its toxicity. Stay cautious of 'LSF' cables as the term carries little meaning and often describes PVC-based products. Any product that contains insulation, bedding or jackets of PVC may produce highly toxic fumes when burnt.
So what can you do to stay compliant? Cables manufactured after July 2017 intended for permanent installation within a domestic, residential or commercial building, or any other civil structure, should have a Declaration of Performance (DoP) available. This document shows critical information such as manufacturer's name, product type and class met.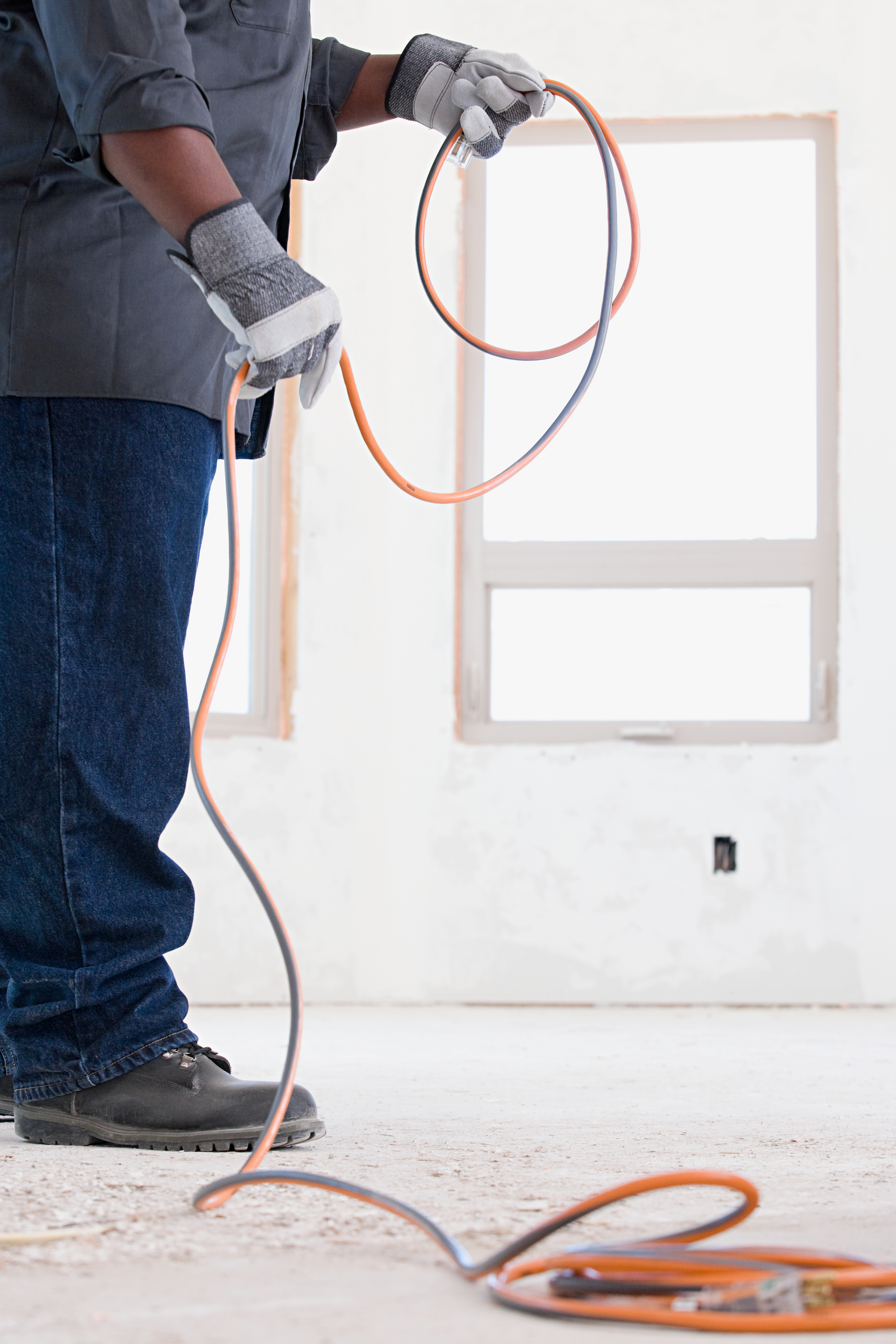 By law, manufacturers or anyone importing cables from outside the EU need to keep records of CPR compliant cables sold and be able to provide DoP documentation for up to 10 years after it was first sold. If purchasing FSC or Tru brand CPR compliant cable, you can easily download your CPR documentation straight to your mobile, tablet or desktop through our CPR downloads tool. Simply visit
www.fscables.com/cpr-downloads
and enter the DoP reference from the cable drum label to download your CPR document.
The cable itself does not have to be printed or embossed to show CPR compliance, however the regulation is very clear that the packaging (usually a drum, spool or box) must carry specific information, almost always on a label. This will include the CE mark, DoP reference and unique product type. All FSC-marked cables carry a batch number to give full traceability regarding when and where the cable was made and also the materials used to manufacture that specific batch.
As part of the commitment to meet current regulations, FS Cables stock over 850 CPR-compliant cables including Alternative to Belden cables, structured wiring, fibre, coax, signal & control and power cables. You can browse the full range
here
.
Given the conflicts specifiers have to wrestle with when selecting cables, I can understand why many may throw their hands up in despair. Interpreting the CPR classes and applying them to cable specification in the real world has proved challenging.
While we cannot recommend courses of action, we can offer guidance, clarity and options to help demystify CPR compliant cable specification. The sector certainly needs it.